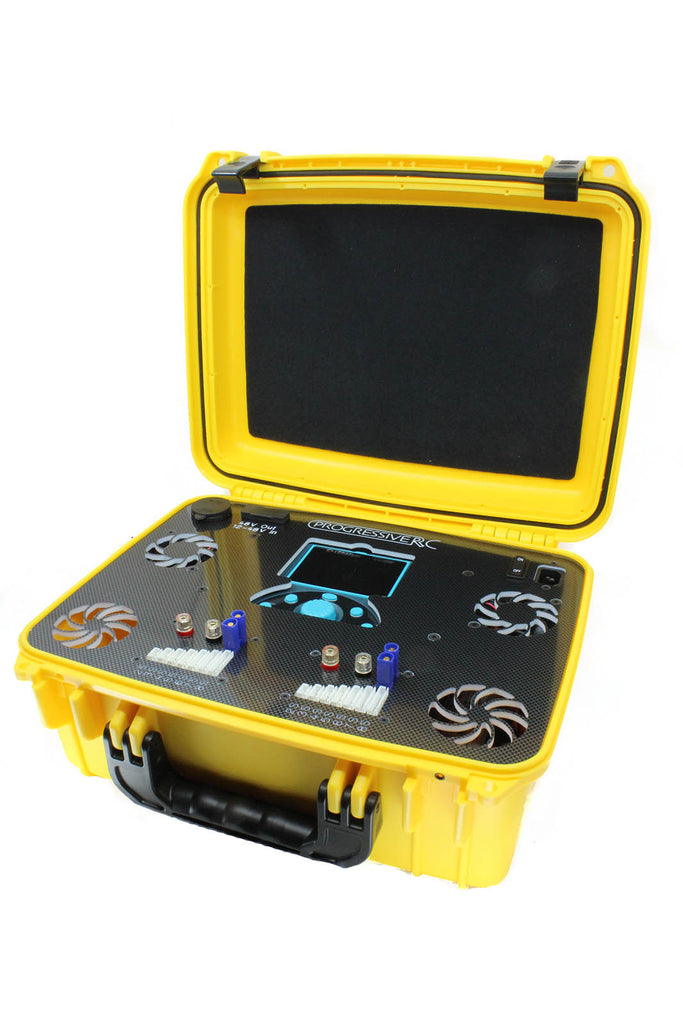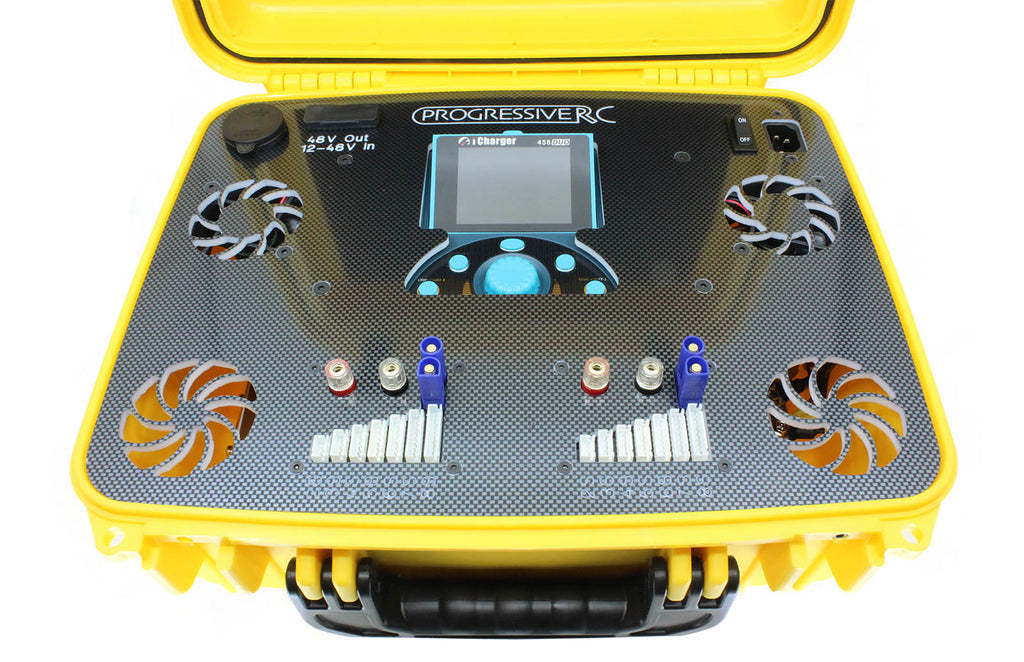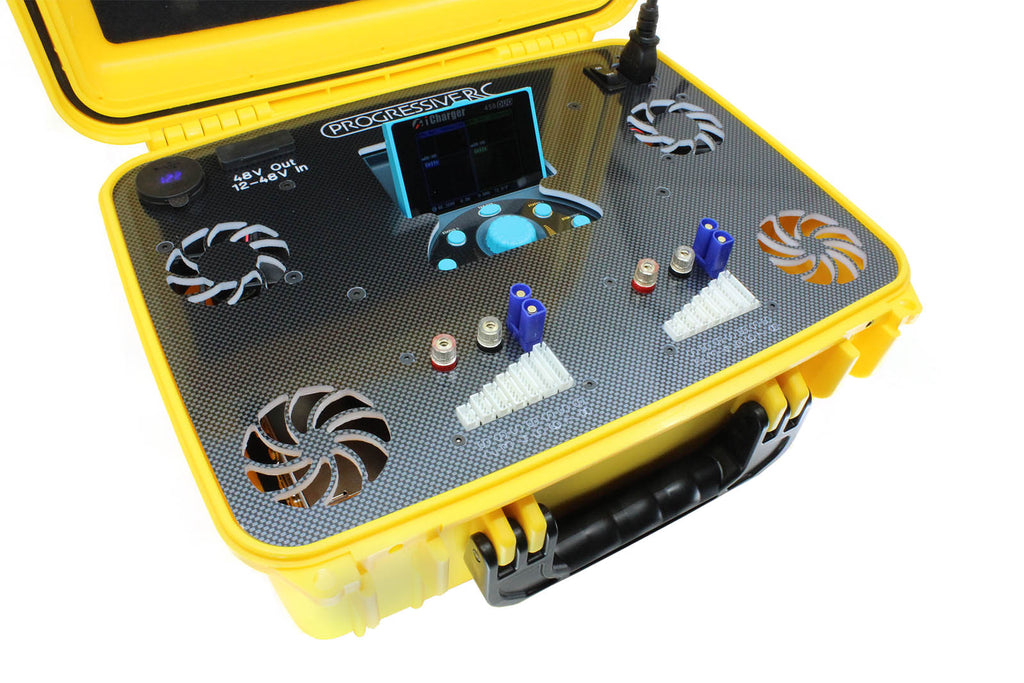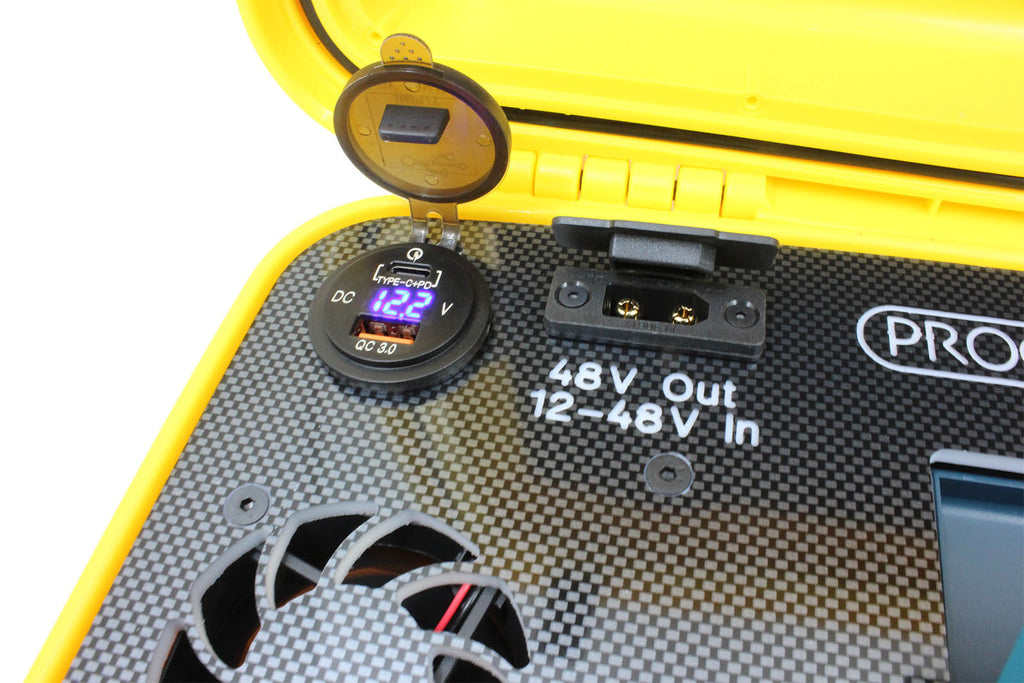 PRC Signature Series: Hardline 456/458Duo 2000W Combo
Unlock the full potential of these high power chargers with this self-contained 2000W setup!
Get a taste of the custom shop, without the wait. This Signature Series case comes complete with our ProgressiveRC Charger Interface Panels, giving you a full set of connections for each channel available at the deck with no additional cabling required to start charging an EC5 battery. With the included banana plugs, you can also charge any other battery - or parallel charge - with a standard charge cable or board. This truly makes for an unbelievably convenient portable charging solution! Also included are an integrated AC switch, a dual-port USB charger with built-in voltmeter, and even a DC input port for field charging.

Unlock the full potential of these high power chargers with this 2000W setup - the combination of the iCharger 456 or 458Duo and the Mean Well RSP-2000-48 is ready for any situation you can throw at it. Need to charge 6S packs at the same time as your 3S? Working with batteries of different chemistries? The independent output channels on the charger make this a breeze, but if you need to just charge a bunch of high-capacity packs as fast as possible, it's a piece of cake to parallel the two channels and charge at up to 70A in sync mode. Included in the package are all the accessories you need to create an unbeatable portable charge solution!

Includes:
PRC Hardline Case (lifetime warranty)
iCharger 456 or 458Duo (1-year warranty)
Mean Well RSP-2000-48 Power Supply (5-year warranty)
(2) 2S-6S/8S EC5 Charger Interface Panels
USB 3.0 Quick-Charger with Voltmeter
Heavy Duty AC Cord (cord length may vary due to current global supply chain issues)
DC Input/Output Port
12V 60mm Fan
Pololu 12V 4.1A Voltage Regulator
Internal Wiring
Full Assembly, Installation & Testing
Note: We keep a limited inventory of pre-built cases available for immediate shipment. If your preferred color shows 'Built to Order,' please allow a few days for production.